Regular price
Rp 472.000
Sale price
Rp 322.000
Unit price
per
Sale
Sold out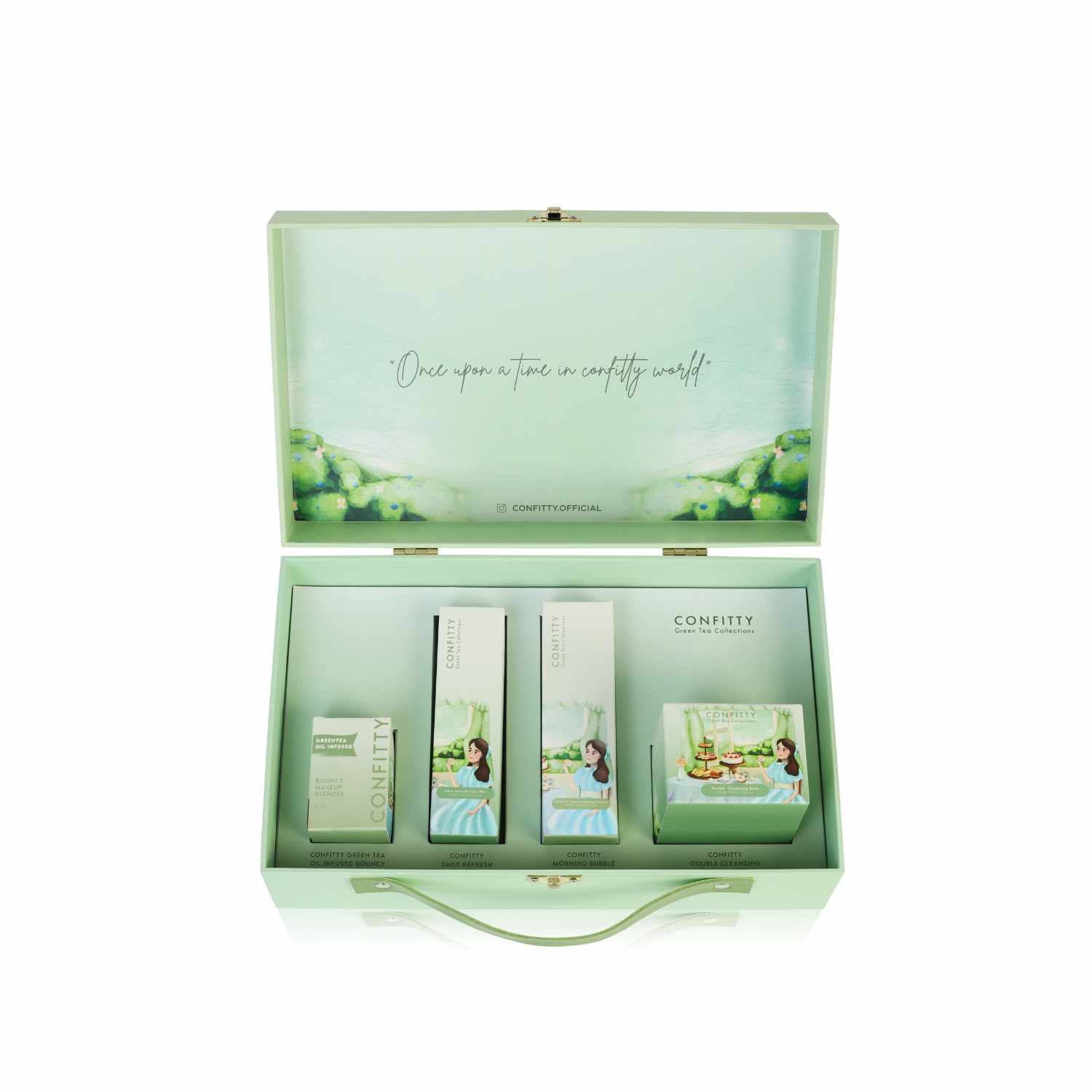 #CONFITTYGreenteaCollectionsSetBundle
MORNING BUBBLE EMULSION
Primer
Moisturizer
Locks make-up to stay longer
Preparing a healthy and happy skin is a proper way to start the day
With bubble technology, CONFITTY Morning Bubble Emulsion prepares a healthy and happy skin for you to to start the day. #CONFITTYMorningInstantSmooth.
So, here we present, CONFITTY Morning Bubble Emulsion
-. Bubble Technology
- Niacinamide 2%
- Green tea Extract
- Vit C
- Hyaluronic Acid
- Grapeseed Oil
- Glycerin Fix
- Allantoin Helps skin regeneration & relax your skin
BPOM NUMBER: NA18211903615
DAILY REFRESH FACE MIST
Hydrathing
Refreshing
Microspray
There's almost always no time for a bad mood, when tons of other activities are waiting. Daily Refresh Face Mist will booze your mood on a bad day. It will hydrate and freshen up your skin without sticky feeling #CONFITTYDailyRefreshMood.
Here it is!
Daily Refresh Face Mist
- Greentea extract
- Fruit extract
- Aloe Vera Extract
- Glycerin
BPOM NUMBER: NA11221200335
DOUBLE CLEANSING BALM
3 in 1
Clensing Balm
Face Wash
Mask
Clear all the negativity during the day and start your evening fresh
CONFITTY Double Cleansing Balm clears all the negativity during the day and lets you start your evening fresh. A gel with cooling sensation that clears your skin with double function as a cleansing balm and face wash. #CONFITTYDoubleCleanseAndMask.
Double Cleansing Balm
- Greentea extract
- Chrysantemum extract
- Chamomile
- Calendula extract
BPOM NUMBER: NA11221200242
GREENTEA OIL INFUSED BOUNCY MAKEUP BLENDER
Greentea Oil Infused
Bigger when wet
Soft & bouncy without latex
Bouncy Makeup Blender Greentea Oil Infused with fresh greentea scent for antioxidant and helps to protect the skin from damage cased by UV radiation and free radicals from the environment.
DRY & WET – Bounce size transformation! Size: 6 CM
Green tea Oil infused? Yes girl, it has GreenTea Oil inside it!
Benefits of GreenTea Oil:
 provides extra protection from exposure to UV rays and free radicals
 provide antioxidants to the skin
You can use the GreenTea Oil infused bouncy makeup blender in damp or dry condition.
Be ready #CONFITeam! Here we present, from you to you
View full details